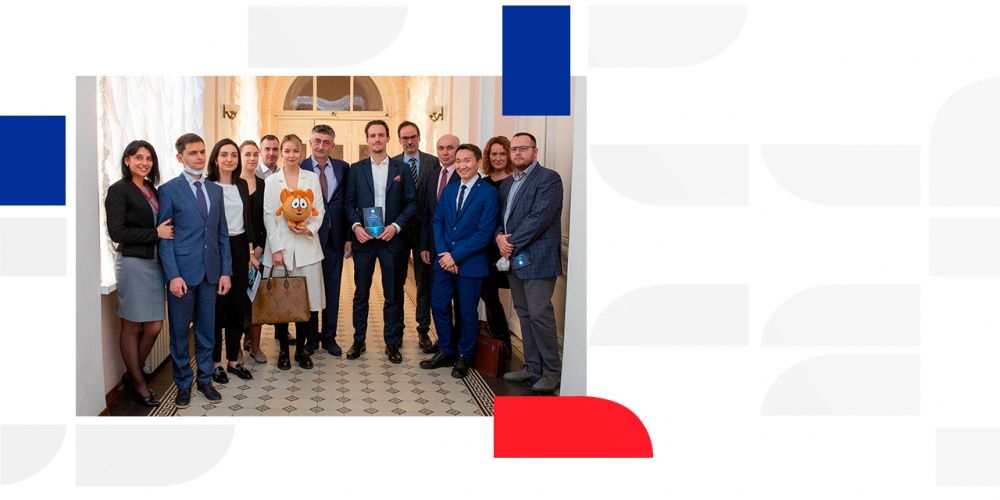 Austrian delegation visit to Saint-Petersburg Research Institute of Ear, Throat, Nose and Speech
Summary
Start date: 19.04.2021
End date: 19.04.2021
Status: Completed
April 19, the St. Petersburg Research Institute for Ear, Throat, Nose and Speech welcomed the visiting directors of the Sochi Dialogue Forum together with representatives of the Austrian Embassy in Russia. The agenda included a discussion of successfully completed projects, as well as plans for the future.
The face-to-face meeting is being held for the first time after a long break since the coronavirus pandemic. It is no coincidence that the Research Institute was chosen as the venue for the event, as it is the place where scientific and practical cooperation between Russian and Austrian specialists in the field of hearing rehabilitation has been taking place for the past 25 years.
Vladimir Vladimirovich Dvoryanchikov (Director of Saint-Petersburg Research Institute of Ear, Throat, Nose and Speech Ministry of Healthcare in Russian Federation, Doctor of Medicine, Honoured Physician of the Russian Federation): "We have always maintained friendly relations between Russia and Austria. And when it comes to the most modern, high-tech methods of hearing restoration, it is obviously that area in which the institute operates at the highest level and has received international recognition".
The relevance of supporting hearing implant patients is growing, as well as the number of people requiring such high-tech medical care. Most of the things that are available to hearing-impaired people in Russia are done with the support of the Sochi Dialogue public forum. Today's meeting is one of the important formats for interaction between professionals, as all ideas are generated and developed together.
Maria Matveeva (Director of the Sochi Dialogue Public Forum): "Today, we can not only see, but truly feel the cooperation, friendship and joint work between Russia and Austria. This is an absolutely unique experience, where specialists from our countries work together to make this world a better place, helping children to hear".
Fabian Ortner (Director of the Austrian Cultural Forum in Moscow, cultural attaché of the Austrian Embassy in the Russian Federation): "Today I'm here as a representative of Austria and I am proud of this wonderful project and I thank everyone who takes part in it. It's very good that young people can live a normal life with hearing implants, that it's possible".
Each of the participants had the opportunity to speak on a topic of interest, as well as to ask questions which are of current interest. Much attention was paid to science and health issues.
Serafima Sugarova (ENT surgeon, Head of Department of Diagnostics and Rehabilitation of Hearing Impairment, St. Petersburg ENT Research Institute, Ministry of Health of Russia, expert of HEARRING network of international hearing implant centers): "Today's meeting was very important for us; for more than ten years our institute has been in very close international cooperation within the community of clinics, international centers - leaders in the field of hearing rehabilitation. We have a lot of joint research projects with the University of Vienna, with the University of Innsbruck. We do quite important clinical research together, concerning both genetic hearing disorders, as well as remote support for patients with cochlear implants, which is very relevant in our country.
The discussion focused on the possibility of implementing programmers not only related to science and health, but also to educational projects.
Natalia Konyushenko (MED-EL Social Partners in Russia): "It is very important to create a positive image of a person with a cochlear implant as well as to tell people about modern technology, about the possibilities of modern medicine and of course about the projects being carried out, thanks to organizations such as the Sochi Dialogue Public Forum, like the ENT Research Institute and the parents' association I Hear the World! With such strong partners, we get outstanding and very useful projects".
One of the projects is the publication of a book of poems by Nikolai Kuznetsov, a young deafblind author and cochlear implant user. Nikolai and his mother Irina attended the meeting and presented the book with his autograph. The guests were pleased with the warm welcome and, mostly, by the fact that Russian-Austrian cooperation has had its successful results, which means that there are many more joint programmers ahead.