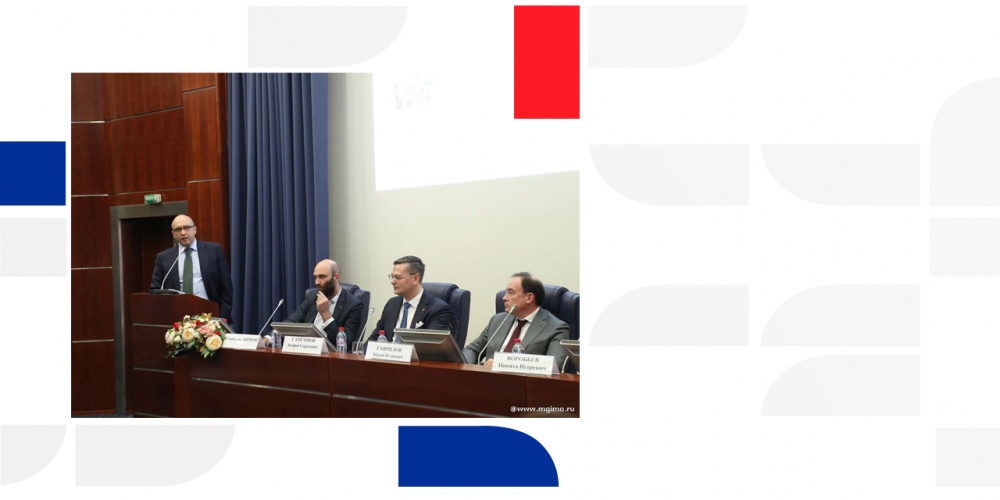 Plenary session "Sustainability issues of Russian and foreign corporations"
Summary
Start date: 16.04.2021
End date: 17.04.2021
Status: Completed
MGIMO.GREEN forum "Sustainable Development: International Experience, National Regulation, Corporate Practice" was held at MGIMO, April 16-17. The exhibition of the results of the Russian-Austrian photo competition FOTORUAT and a plenary session "Sustainable Development Issues in the Practice of Russian and Foreign Corporations" were organised with the support of the Sochi Dialogue Forum.
The session was attended by A.S. Samsonov, CEO of Austrian Felder Group Russia, N.I. Vorobiev, Director for Ecology and Climate at NLMK Group, S. Henrion, CEO of Clean Technology Platform "KSTEK", E. Ferlengi, Chairman of the Coordination Committee of Green Initiative Project, Chairman of Energy Committee at Association of European Business, co-chair of Russian-Italian Forum-Dialog, Y.P.Gavrilov, Director of Strategy, Mergers and Acquisitions of Metalloinvest Management Company LLC. He spoke about NLMK Group's investments in environmental projects and the company's environmental goals. E. Ferlengi, Chairman of the Energy Committee of the Association of European Businesses and Co-Chairman of the Russian-Italian Dialogue Forum, spoke about the practice of implementing the SDGs (sustainable development goals) in companies and stressed the importance of the SDGs for business.
Andrey Sergeevich Samsonov, CEO of Felder Group Russia, spoke about his company's work as well as its cooperation with Russian enterprises. The speaker emphasised that the aim of the business is to improve the culture of running a business and the culture of production. "In each decision we try to be guided by questions of how it will affect the public sphere and whether it is the right thing to do," said Andrey Sergeevich.
The session ended with a presentation by an expert from the Ministry of Natural Resources and Environment of the Russian Federation. The audience was also given the opportunity to ask the speakers questions at the end of the presentation.