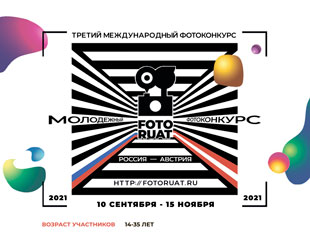 THE THIRD INTERNATIONAL PHOTO CONTEST "FOTORUAT"
Regional public organization "Austrian Friendship Society" announces the start of the Third International Photo Contest "FOTORUAT", dedicated to the theme "Visually about the present".
Photo project "FOTORUAT" is a space for creative interaction of talented, caring and thoughtful young people of the two countries, bringing together fans of photography, beginners and professional photographers.
The photo contest will take place from September 10 to November 15, 2021.
Citizens of Russia and Austria, aged 14 to 35 years, who are residents of all Russian and Austrian cities are invited to participate.
Participation in the contest is free of charge.
Nominations for the "FOTORUAT" 2021 Photo Contest:
"By creating - Preserve", a nomination devoted to the problem of the contact between the future and the past, reveals the question of whether it is possible to change the world, preserving its authenticity.
"Digital Life", a nomination opened to find the pros and cons of global digitalization.
"Think Ecologically. Act Consciously", a nomination that combines photographic works on the theme of ecology and conscious lifestyle.
"Smartphone Photo."
"Youth Z" - age limit 14-17 years old
"Youth Y" - age limit 18-21 years old
The main prize - 50 000, 00 (fifty thousand) rubles is provided in each of the three nominations: "By creating - preserve", "Digital Life", "Think Ecologically. Act Consciously".
Winners in the Youth Z and Youth Y categories will receive special prizes.
Together with the partners of the Third International Photo Contest "FOTORUAT" - the Austrian Institute in Moscow and the Russian House in Vienna ( Russian Federal Agency of Rossotrudnichestvo in Austria) - in the nomination "Photo on your smartphone" we hold the action "Learning languages together".
The cultural event is supported by the Russian-Austrian Public Forum "Sochi Dialogue", the Austrian Cultural Forum in Moscow.
The procedure and conditions of participation are detailed on the official website of the Photo Contest https://fotoruat.ru/