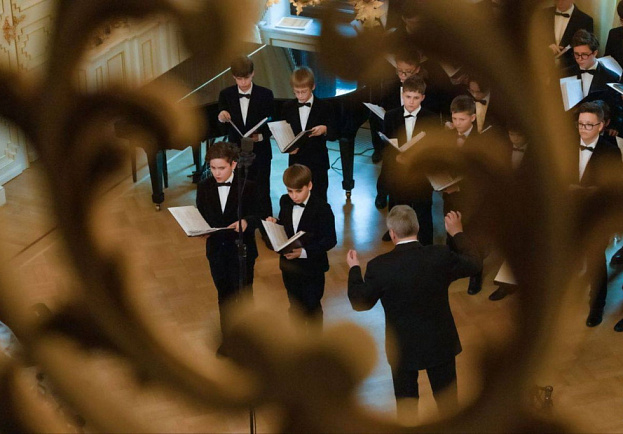 Performance by the Boys Choir of the Glinka Choir School as part of the SPIEF 2023 cultural program
On June 15, 2023, as part of the SPIEF cultural program, the Boy Choir of the Glinka Choir School will perform at the Myasnikov Mansion.
Listeners will be able to enjoy the Choir's unique program "Russian-Austrian Musical Dialogue", which includes the best works of Austrian and Russian classical music by Mozart, Schubert, Rachmaninoff and Tchaikovsky.
The Boy Choir of the Glinka Choir School is a well-known ensemble, a regular participant of festive ceremonies dedicated to the celebration of the Day of Diplomatic Workers in the Marble Palace and consular offices of the Republic of Finland, the United Kingdom of Great Britain and Northern Ireland, the Kingdom of Denmark and the State of Israel. The school has hosted mayors, governors, official delegations from various countries of the world, and the consular corps accredited in St. Petersburg.
The Boy Choir does a lot of touring. Its deep, emotionally rich sound has been enjoyed by audiences in Great Britain, Germany, Denmark, the USA, France, Switzerland, Sweden, Holland, Austria, Spain, Italy and China.
During their tour performances abroad, the Little Ambassadors of Peace sang in the Berlin Philharmonic Hall, the Royal Albert Hall in London and the United Nations Organization in New York. The choir is an invariable participant of various special international cultural programs held under the auspices of the UN, UNESCO, governments of various states and St. Petersburg.
The Boy Choir has also taken part in the cultural programs of the XXXII G8 Summit of Heads of State and Government (St. Petersburg 2006), the Winter Olympic and Paralympic Games (Sochi 2014), international cultural and economic forums, and concerts dedicated to the opening of the Mariinsky 2. His pupils have performed in many opera performances at the Mariinsky, Mikhailovsky and Bolshoi Theatres. As part of the Children's Russian Composite Choir, 50 pupils of the School took part in the celebration of Russia Day in Simferopol, Yalta and Sevastopol (2014-2015) and a concert in the Kremlin (December 2015).
Artistic Director and conductor - Honored Artist of Russia Vladimir Begletsov.