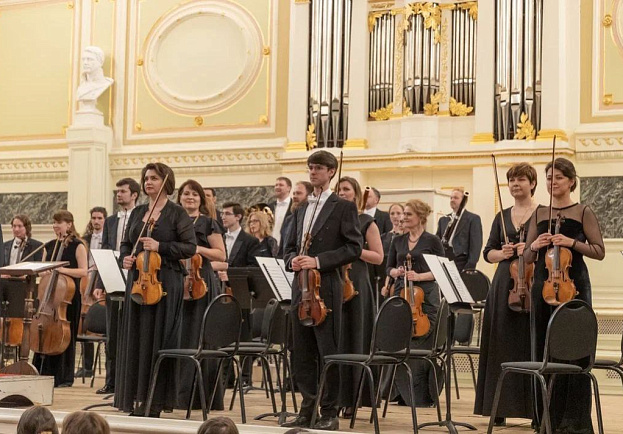 Concert «Viennese classics: Haydn, Schubert»
A concert honouring the anniversaries of two great Austrian composers took place at the Capella in St. Petersburg on 18 June: The 290th anniversary of the birth of Joseph Haydn and the 225th anniversary of the birth of Franz Schubert. The St. Petersburg Capella Symphony Orchestra, conducted by Alexander Chernushenko, and soloist Alexander Rudin (cello) took part in it.
The concert was held under the aegis of the cultural programme of the St. Petersburg International Economic Forum and as part of the development of the Russian-Austrian dialogue.
The welcoming speeches were given by Maria Dmitrievna Matveeva (Adviser to the Head of the Foundation «Talent and Success» for international Affairs), Andrey Ivanovich Rudskoy (Rector of the Peter the Great St. Petersburg Polytechnic University) and Natalia Yurievna Konyushenko (Producer and Partner of social programmes of the Austrian company MED-EL in Russia).
«Today we are referring to culture - this is as relevant as ever. Today's concert, held on the anniversaries of two great Austrian composers, is an example of such projects. They enable us to communicate, discover ourselves, and create something really important together», emphasised Maria Matveeva.
The first part of the concert featured a young musician, Yaroslav Goncharenko (piano). Yaroslav is 12 years old and was born deaf, but now, thanks to his MED-EL cochlear implants he can not only hear, but also perform world classics.