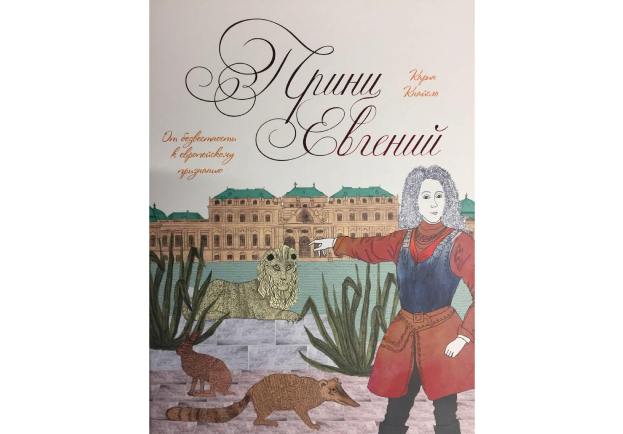 Prince Eugene. From obscurity to European recognition
AUTHOR: Karin Kneiss
On 9 December 2019, the Sochi Dialogue Public Forum held Presentation of the Russian-language edition of the book "Prince Eugene. From Obscurity to European Recognition" by former Austrian Foreign Minister Karin Kneissl at the Pushkin Museum in Moscow.
Karin Kneissl studied law and oriental languages in Vienna, Paris and Jerusalem. She worked as a diplomat in Austria for several years before moving to the countryside to start writing and teaching. This book is her first literary work for young readers. Previously, she had written several books on the Middle East and energy issues. Living in times when interesting characters were rare, she decided to tell the life story of Eugene, the unloved son, who became a genius of Europe.
Thanks to the support of the Russian-Austrian Public Forum "Sochi Dialogue" and the efforts of an interpreter, now I can share the fascinating life story of amazing Prince Eugene of Savoy! This beloved friend of animals and people still has a lot to tell. Thanks to this book, we can experience a journey through time, going back 300 years. Despite the bygone era, the lives of people, especially those who have achieved power and fame, show us examples of what remains important at all times. It is character and perseverance in overcoming challenges against fate. At 19, Eugene, "a pauper prince", came from Paris to Vienna, where he was destined to become a great military leader and the most famous strategist in Europe at that time. To reach such heights one needs talent and discipline. Eugene possessed both. In addition, unlike most commanders, he cared about his soldiers. He loved art and had collections of works of art exhibited in museums in Vienna today. He loved his animals, who were loyal friends to him. Among them was a lion, which died the same night as Eugene. The prince took the lion with him to meetings in order to get rid of unwanted interlocutors as quickly as possible. Famous artists painted his birds and animals at his request, and he took care of his pets himself. Eugene had to experience envy and intrigue, because successful people always have enemies. Vienna was known for its intrigue, and Eugene was almost the victim of a cunning plot. However, thanks to a shrewd informer and his own self-control he was able to emerge. Reading about the battles in which he took part, reading his letters to famous people,his experiences and dreams of a quiet life in the countryside, it becomes clear that Prince Eugene is a unique person. Growing up, we seek role models. Some find them among athletes, others among teachers or neighbours. I've always loved reading biographies, as you can learn how difficult the lives of famous people used to be. Working on this book, I tried to put myself in the shoes of "poor Eugene", who was often tested by life, and also to imagine myself as a young reader who was just seeking role models. Perhaps I managed to make Eugene a little closer to us. In any case, I have learned a lot: about the life and history of the Habsburgs, about the Ottomans and the wars in Europe. So let this book awaken your interest in history. It is not for nothing that a Roman proverb says: "History is the teacher of life".
Karin Kneissl, autumn 2019
Additional materials: